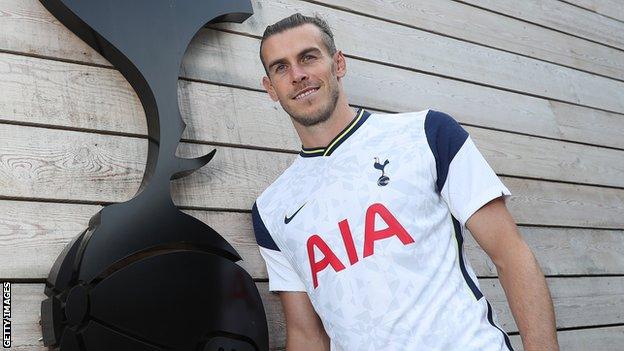 Tottenham have re-signed Wales forward Gareth Bale from Spanish champions Real Madrid on a season-long loan.
"It's nice to be back. It's such a special club to me. It's where I made my name," said Bale.
"Hopefully, now I can get some match fitness, get under way and really help the team and, hopefully, win trophies."
Spurs said Bale has signed for them with a knee injury sustained playing for Wales earlier this month and they "anticipate that he will be match fit after October's international break".
That would mean the forward missing their next five games, with the club's first outing following the international break at home to West Ham on 17 October.
'I'm hungry and motivated'
Bale originally joined Tottenham as a 17-year-old from Southampton in 2007 for an initial payment of £5m.
"I always thought when I did leave that I would love to come back," he added.
"I feel like it is a good fit. It's a good time for me. I'm hungry and motivated. I want to do well for the team and can't wait to get started."
At Real, Bale has also won two La Liga titles, one Copa del Rey, three Uefa Super Cups and three Club World Cups.
"I think by going to Madrid, winning trophies and going far with the national team I feel like I have that kind of winning mentality, how to win trophies," he said.
"You don't realise it until you're there and in those situations, in finals, how to kind of deal with the situation, the nerves, the pressure, and I think that all goes with experience.
"Hopefully I can bring that to the dressing room, bring a bit more belief to everybody that we can win a trophy, and the target is to do that this season, to be fighting on every front possible. I want to bring that mentality here, back to Tottenham."
Bale remains the most expensive British player in history, as well as the top-scoring British player in La Liga – with 80 goals and 40 assists in 171 league appearances, averaging a goal or assist every 104 minutes.
However, a run of injuries, indifferent form and a deteriorating relationship with manager Zinedine Zidane had seen Bale become a marginal figure.
From the world's most expensive signing to a player on the fringes
Real eclipsed the £80m they paid Manchester United for Cristiano Ronaldo in 2009 to take Bale to the Bernabeu, with the forward signing an initial £300,000-a-week, six-year contract.
He extended his stay with a new six-year deal in 2016, reported to be worth £600,000 a week – and £150m over its duration – in salaries and bonuses.
The Welshman was hugely successful in his first few seasons at Real, scoring in the 2014 and 2018 Champions League finals, as well as the 2014 Copa del Rey final.
BBC Sport readers voted Bale as the best British export of the Premier League era earlier this year, his 42% share comfortably eclipsing former England, Manchester United and Real Madrid winger David Beckham's 29%.
Champions League

2014, 2016, 2017, 2018

La Liga

2016-17, 2019-20

Copa del Rey

2014

Uefa Super Cup

2014, 2016, 2017

Club World Cup

2014, 2017, 2018
But, frustrated by a lack of playing time, Bale came close to a move to China last year before Real blocked it.
After celebrating Wales' qualification for Euro 2020 with a banner reading "Wales. Golf. Madrid. In that Order" in November, he received a backlash in Spain and was jeered by Real fans in his first game back for the club.
His relationship with Zidane deteriorated to the extent Bale asked not to travel with the squad for the Champions League last-16 second-leg tie against Manchester City in August because he knew he had no chance of being involved.
He started just one match when the 2019-20 La Liga season resumed following the coronavirus shutdown and played only 100 minutes as Real won a first league title since 2017, and was conspicuously on the fringes of the team's celebrations.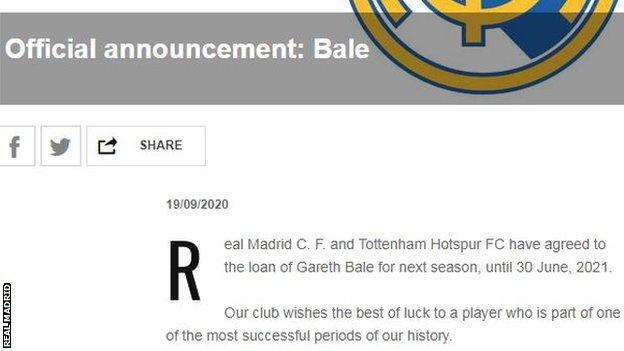 Bale joins manager Jose Mourinho's other signings of this transfer window, joining goalkeeper Joe Hart, defender Matt Doherty, midfielder Pierre-Emile Hojbjerg and left-back Sergio Reguilon at the club.
Tottenham, Champions League finalists in 2019, were beaten 1-0 at home by Everton in their first match of the 2020-21 campaign on Sunday.
They finished sixth in the English top flight last season to qualify for the Europa League, seven points adrift of Chelsea in the final Champions League position.
Mourinho, beginning his first full campaign with Spurs after succeeding Mauricio Pochettino in December, tried to sign Bale when Real Madrid boss but the player arrived the season after the Portuguese's departure.
Opposition will be scared of Bale 'wow' factor – analysis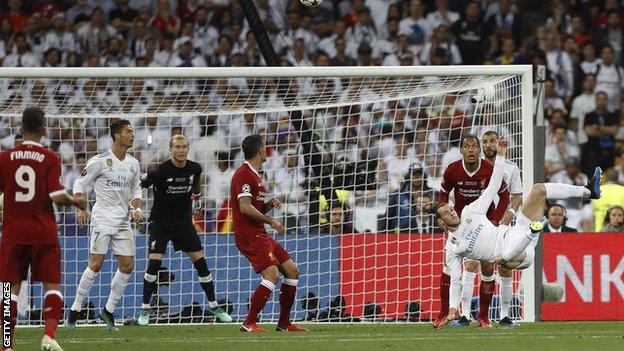 Former Spurs and England midfielder Danny Murphy:
Gareth Bale has that "wow" factor, something only a few very special players in the world have got.
When they play, they have a different aura and a presence on the pitch that affects everyone – even before they kick a ball.
So, Bale will not just have a positive effect on his new Tottenham team-mates and give them a massive confidence boost, he will change the way opposition players feel about facing Spurs.
They will be worried when they see his name on the teamsheet and then, when they face him on the pitch, I can tell you now they will drop off five yards because they will be scared of him – whoever they are.
More on the deal
Simon Stone, BBC Sport
The indications are that Tottenham will pay 40% of Bale's salary, which is in excess of £600,000 a week.
This figure may involve bonuses, so the actual payment may be less than £260,000 a week, but it will still place Bale above even Harry Kane, who signed a £200,000-a-week deal in 2018.
However, coming less than six months after chairman Daniel Levy put staff on furlough, and less than four months after Tottenham took out a £175m loan from the Bank of England – which it expressly says will not be used to buy players and is more likely to help pay loans for their £1bn stadium – it still raises questions about the deal.
An astute operator with a keen business brain, Levy can presumably justify the move on two grounds.
First, the impact Bale could have on Mourinho's squad, leading to success on the field and therefore more money off it. Secondly, Bale is a global star and will have a major commercial impact.
Bale's arrival puts question marks over the short-term futures of two midfielders: Dele Alli, replaced at half-time during Sunday's home defeat by Everton, and Tanguy Ndombele, a £63m club record signing last summer.
Key Bale stats
In 146 Premier League games for Tottenham Bale scored 42 times. In his last season at Tottenham in 2012-2013, Bale was involved in

37 goals

in all competitions for the club (26 goals, 11 assists) – only Robin van Persie (39) and Juan Mata (49) were involved in more for a Premier League club that season.

Nine

of those 21 goals

came outside the box

; the most by any player in a single season in the competition's history.

Bale is one of four Premier League players to win the

PFA Players' Player of the Year

on two occasions, after Alan Shearer, Thierry Henry and Ronaldo. He was also only the second Premier League player (along with Ronaldo) to win both this award alongside the Young Player of the Year award in the same season.

Bale is one of seven players to score at least twice in a single

Champions League final,

and the only British player to do so.

Since he joined Madrid in the summer of 2013, only Ronaldo (318) and Karim Benzema (235) have been involved in

more competitive goals

for Real Madrid than Gareth Bale (162).

Over the past three seasons, Gareth Bale has seen his

attempted dribbles

drop to three or less per 90 minutes, compared to a high of 6.2 when at Tottenham and 5.8 in his first season at Real Madrid.
How is Bale's departure viewed in Madrid?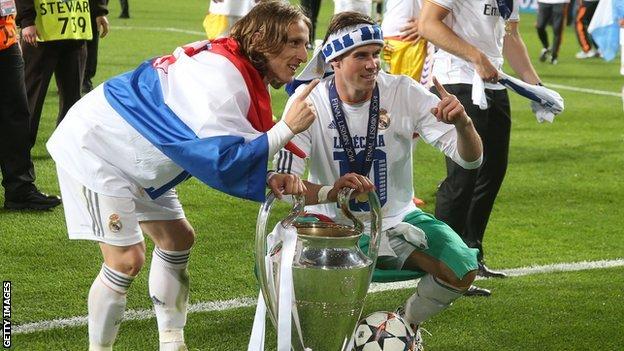 Andy West, Spanish football writer:
The view in Madrid is… finally, he's gone.
Whether it's fair or not (and the man himself appears to be way past caring), that will be the immediate reaction of most Real Madrid fans to the news of Gareth Bale's departure.
In their minds, Bale's undeniably significant role in an impressive haul of silverware – including some genuinely sensational moments of match-winning brilliance – has been overshadowed by his startling lack of contribution in the past two years, during which time his attitude towards the club veered between disinterested apathy and hostile mockery.
In time, the acrimony of his past couple of years will be forgotten and a more generous perception will emerge, and it is already widely acknowledged that Bale was an undoubted success during his first five years in Spain.
But it can't be denied that he became an expensive burden by the end, and few fans will be sorry to see him leave.
Player

Clubs

Fee

Neymar

Barcelona to Paris St-Germain

£200m

Kylian Mbappe

Monaco to Paris St-Germain

£165m

Philippe Coutinho

Liverpool to Barcelona

£142m

Ousmane Dembele

Borussia Dortmund to Barcelona

£135m

Joao Felix

Benfica to Atletico Madrid

£113m

Antoine Griezmann

Atletico Madrid to Barcelona

£107m

Cristiano Ronaldo

Real Madrid to Juventus

£99.2m

Eden Hazard

Chelsea to Real Madrid

£89m

Paul Pogba

Juventus to Manchester United

£89m

Gareth Bale

Tottenham to Real Madrid

£85m
Find all the latest football transfers on our dedicated page.




tinyurlis.gdclck.ruulvis.netshrtco.de