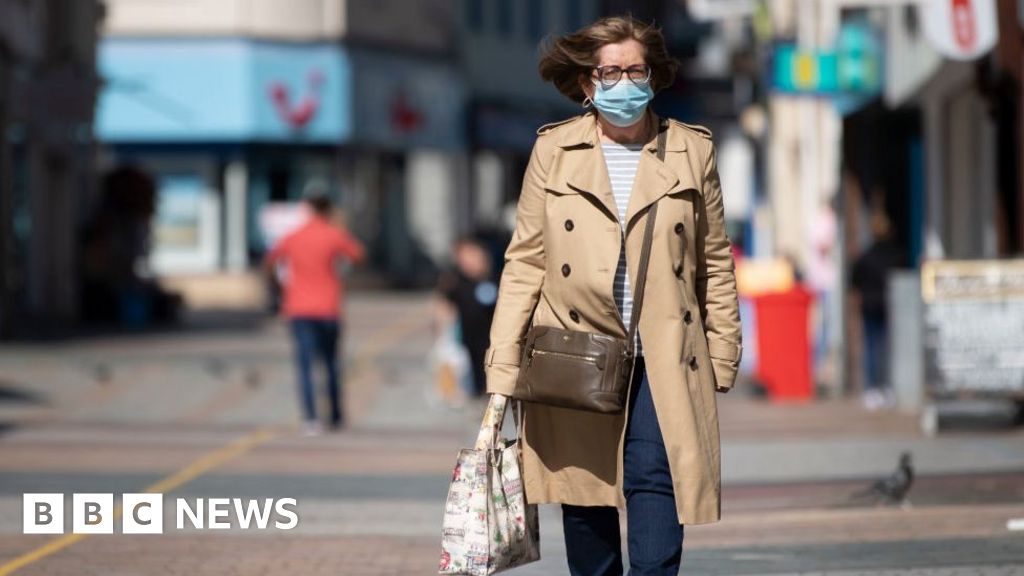 Four more counties in south Wales will go into lockdown from 18:00 BST on Tuesday, meaning more than a quarter of the Welsh population will be under tighter restrictions.
Merthyr Tydfil, Bridgend, Blaenau Gwent and Newport will have the same restrictions as Rhondda Cynon Taf.
People will not be able to enter or leave those areas except for a limited number of exemptions, such as work.
Licensed premises like pubs will need to shut by 23:00 every night.
People will only be able to meet others not in their own household outdoors – meetings with people from their extended households indoors will be banned in the four areas.
The pub rule will also be extended to Caerphilly county borough, which was put under local restrictions last week.
What can I do during local lockdowns?
Live: Welsh Government coronavirus update
The new measures affect 431,000 people, meaning that just over 850,000 people in Wales will be under local lockdown from Tuesday.
Customers at the The Pen and Wig pub in Newport on Monday were not convinced a pub curfew would help to control the virus.
Richard Wooding said the earlier closing time could encourage people to have house parties: "If the bars shut earlier, then people just come out earlier.
"I came out last Saturday, I was appalled at the number of people out. The bar staff can't police it. But I don't think you can stop it. People are just going to party in their own houses."
Another customer, Rebecca James, said: "I don't think there's much of a nightlife here anyway. On the weekends it will affect people, going home early, but during the week everything closes around 11 anyway."
But Justin Cliffe, who runs events for Le Pub, was concerned: "For us as a pub, to close at 11, it's not good. This venue runs until 1am so it's a nightlife spot rather than [somewhere for a] pub lunch.
"So the options that we're discussing are whether the pub closes completely or whether we just revert to doing take out or food for delivery. We're going over the options, but it doesn't look good."
On Monday, Public Health Wales (PHW) said there had been a further 234 cases of people with coronavirus, but no new deaths.
Of these, 40 were in Rhondda Cynon Taf, 20 in Blaenau Gwent, 15 in Caerphilly, 14 in Bridgend, 12 in Merthyr and 11 in Newport.
In the past seven days, the number of people with the virus per 100,000 of the population was 102.8 in Merthyr, 83.3 in Rhondda Cynon Taf, 60.1 in Blaenau Gwent, 53 in Caerphilly and Bridgend and 45.3 in Newport.
The threshold for the UK government to considers triggering quarantine conditions for people returning from countries outside of the UK is 20.
PHW figures showed in the week from 16-22 March, when national lockdown was announced, there were 393 cases in Wales, with a case rate of 12.5 per 100,00 people.
Last week, 14-20 September, there were 921 cases and a case rate of 29.2 per 100,000 people.
On Monday, speaking at a Downing Street briefing Chief Medical Officer for England Prof Chris Whitty said the rising case numbers could not be blamed on an increase in testing as there is also an "increase in positivity of the tests done".
Health Minister Vaughan Gething said Monday's extension followed rises in Covid-19 cases in the four counties.
What does local lockdown mean?
If you live in one of the six counties affected, the rules mean you cannot visit or leave the areas affected without a "reasonable excuse".
That can include:
For work, if you cannot work from home
For education
For buying essentials like food or medicine
To provide or receive emergency assistance
To meet a legal obligation, and to access or receive public services
To avoid injury or illness or escape a risk of harm
To visit family or close friends on compassionate grounds
Motorists can continue to travel through the areas on the M4 and other roads.
Could there be wider regional restrictions?
At a press conference Mr Gething said he would hold "an urgent meeting" on Tuesday with councils, health boards and police forces from Bridgend to the English border.
It will discuss the wider regional situation and whether further measures are needed.
Earlier, senior UK government advisers warned of a "six-month problem" of rising cases.
Mr Gething said he could not "definitively" give a timescale of how long lockdown measures would be needed.
He said "all-Wales" measures may be needed to tackle the virus.
But Mr Gething said such action may be short of the full lockdown imposed on 23 March.
A call between Prime Minister Boris Johnson and Wales' First Minister Mark Drakeford took place on Monday afternoon – the first since May.
A Welsh Government spokesman said the pair "agreed on the need to work on a four-nation basis to discuss UK-wide measures where these were necessary".
What is the political reaction?
Welsh Conservative health spokesman Andrew RT Davies called for "smart, hyper-local lockdowns".
"Ministers and governments must do everything possible to avoid another blanket national lockdown as the other public health and economic impacts would be disastrous," he said.
His Plaid Cymru counterpart Helen Mary Jones called for furlough to be extended to support local lockdowns.
"If Westminster won't extend furlough scheme to support local lockdowns, then the Welsh Government needs to look at what support they might be able to provide," she said.
tinyurlis.gdclck.ruulvis.netshrtco.de