Pubs or "other activities" in England may need to close to allow schools to reopen next month, a scientist advising the government has said.
Prof Graham Medley told the BBC there may need to be a "trade-off", with the re-opening of schools seen as "a priority" for children's wellbeing.
It came after England's chief medical officer said the country was "near the limit" of opening up society.
On Friday, the PM said further easing of the lockdown would be delayed.
Measures due to come in this weekend, including the reopening of casinos, bowling alleys, skating rinks and some close-contact services, as well as the return of indoor performances and pilots of large gatherings in sports venues and conference centres, would be postponed for at least a fortnight, Boris Johnson said.
The expansion of wedding receptions to allow up to 30 people was also put on hold.
Mr Johnson told a Downing Street press conference on Friday he needed to "squeeze the brake pedal" on easing restrictions, following a rise in coronavirus cases.
And England's chief medical officer, Prof Chris Whitty, warned the nation had "probably reached near the limit or the limits" of what can be done to reopen society, meaning trade-offs may be needed to allow pupils to return to classrooms next month as planned.
Mr Johnson has previously pledged that both primary and secondary schools in England will return in September "with full attendance".
Asked whether restrictions of other activities may be needed to allow schools to reopen as planned, Prof Medley, chairman of the Scientific Advisory Group for Emergencies (Sage) sub-group on pandemic modelling, told BBC Radio 4's Today programme: "I think that's quite possible.
"I think we're in a situation whereby most people think that opening schools is a priority for the health and wellbeing of children and that when we do that we are going to reconnect lots of households.
"And so actually, closing some of the other networks, some of the other activities may well be required to enable us to open schools.
"It might come down to a question of which do you trade off against each other, and then that's a matter of prioritising. Do we think pubs are more important than schools?"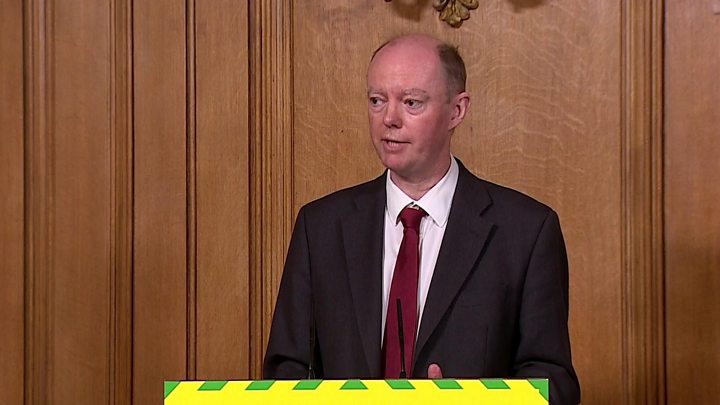 Prof Medley, an academic at the London School of Hygiene and Tropical Medicine said the rise in coronavirus infections appeared to be among younger people, but warned there was a danger it could "spill" over into other parts of the population.
"The age distribution of infections has changed – it has moved down into younger age groups and so it is likely we won't see that increase in hospital admissions related to infection in the same way we did in March," he said.
"But the big fear is the virus just gets out of control and we end up in a situation where there is so much virus that it inevitably spills out into all sections of the population."
This week, new restrictions were announced for people in parts of northern England, after a spike in virus cases.
New lockdown rules were introduced in areas including Greater Manchester, east Lancashire, and parts of West Yorkshire. The rules include a ban on separate households meeting each other inside their homes and private gardens.
The restrictions also ban members of two different households from mixing in pubs, restaurants and other hospitality venues, but these businesses will remain open for those visiting individually or from the same household.
Separately, face coverings will be mandatory in more indoor settings in England, such as cinemas, with the new rules being enforceable in law from 8 August.
Figures published by the Office for National Statistics (ONS) on Friday suggest infection rates in England are rising, with around 4,200 new infections a day – compared with 3,200 a week ago. However, the level of infection is still significantly lower than it was during the peak of the pandemic.
A further 120 people have died with Covid-19 in the UK after testing positive for the virus, according to the latest government figures, bringing the total number of virus deaths to 46,119. Meanwhile, 880 new lab-confirmed cases have been recorded – the highest in more than a month.
Meanwhile, more than two million people shielding against coronavirus in most of England, Scotland and Northern Ireland can now leave their home and return to work.
However, Macmillan Cancer Support said people in the shielded group do not feel safe enough to leave their home and are having to "make the impossible choice" between their health and their job.
It comes as businesses that have furloughed staff during the pandemic must now start contributing to the government's job retention scheme.
ASK MARTIN LEWIS: Answering your questions about travelling to Spain
HOOKED: How has lockdown affected drinking habits?
tinyurlis.gdclck.ruulvis.netshrtco.de